Atu XV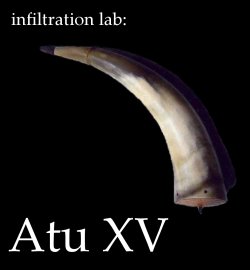 Release date: September 11th 2006
Running time: 19:03
Three-inch CDRs in mini jewel-cases with full color insert. Limited edition of 50.
Atu XV was recorded on June 6th, 2006 and assembled in the weeks following. The recording was performed as a recognition of a culturally significant date (6/6/6), often mired in stigma.
The tone is one of fire and synthetic flame, static and noise pulled forcibly from damaged electronics. It is a bleak and dull surrender, it is sculpted of ash.